Studies show that spending time outside can increase your attention span and problem solving skills by as much as 50 percent. If you're looking for inspiration, getting outside can be a great way to jumpstart your creativity! Here are a few tips for taking those first steps out on the trail.
1. Plan Ahead
First, if you're a hiking newbie I would suggest starting out with a group of experienced hikers. Wander over to Google to find a local hiking group or check out Meetup.com. Hiking with my local Mid-Atlantic Hiking Group helped me to build confidence and learn about how to stay safe/have a great time on the trail. Bonus: I met lots of great people!
Second, be mindful of how much water you will need – it's probably more than you expect! For short hikes you can get away with bottles – but if you're looking to move onto longer hikes, I'd recommend investing in a hydration bladder or Camelback of some kind. Click here for some helpful information on how much water you should carry.
2. Take Care of Your Feet
One of the great things about hiking is that you don't need a bunch of fancy gear. The feet, however, are one place where I suggest making an exception and investing in some proper gear. I started hiking in regular athletic shoes, and the opportunities for slipping or twisting an ankle were definitely more frequent.
I now prefer a waterproof hiking boot with some ankle support, like KEEN Bryce Mid Hiking Boot
. The extra traction and ankle support help me to navigate some of the rockier areas in the VA/MD area, and the WP action keeps my feet dry and less likely to blister.
Plus, can your regular shoes really put up with this kind of abuse?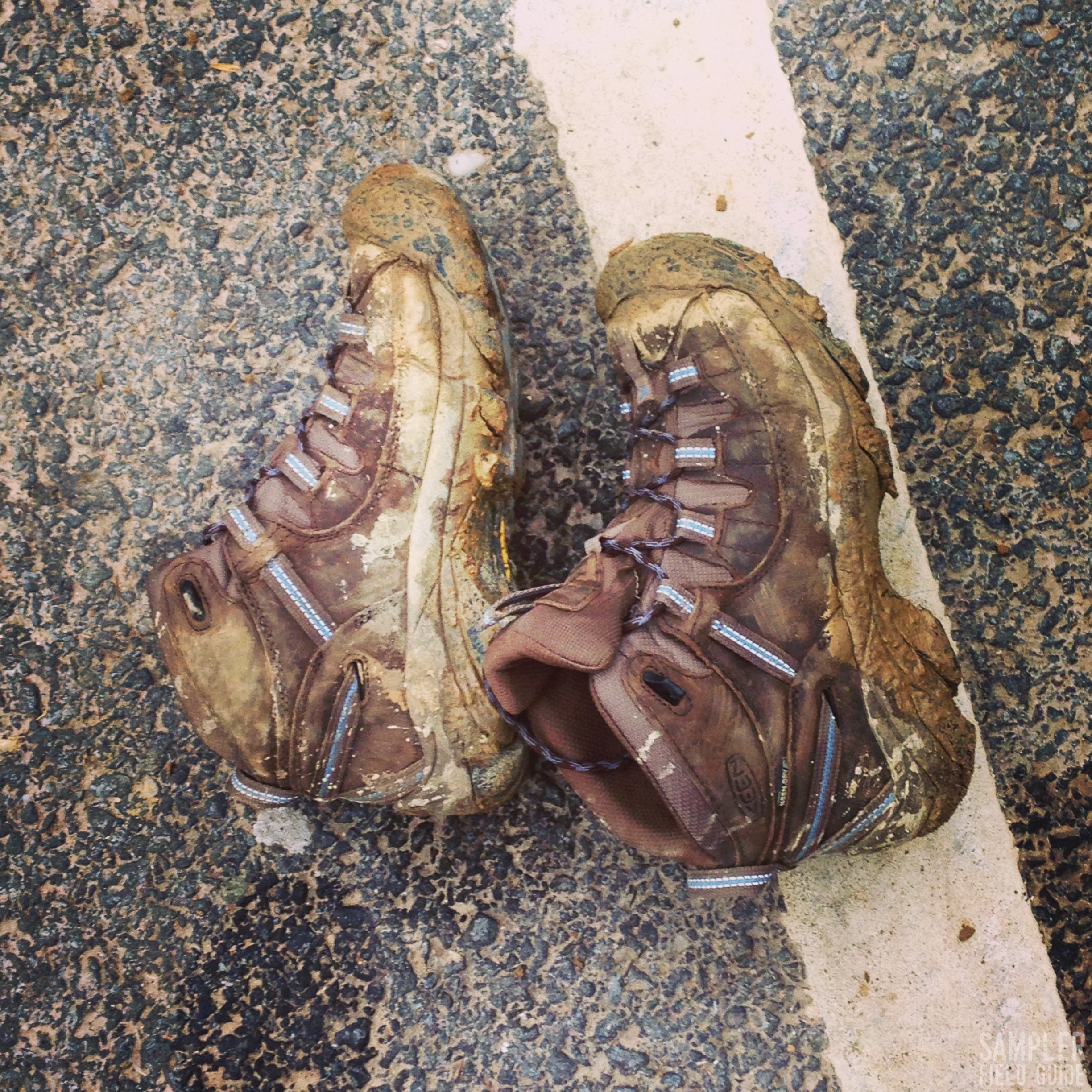 Speaking of blisters, one of the best things you can do to prevent them is to pick a non-cotton sock. "But cotton breathes! I've heard this all my life!" you say. Forget it. Cotton will get damp without any wicking action, and damp feet=blisters. I recommend merino wool for socks instead – it is lightweight, non-itchy, and will wick away any moisture that would otherwise leave you with blistered feet. Your feet will thank you!
3. Leave No Trace
Nature is awesome. Keep it that way by being a good steward and leaving stuff as awesome as you found it. The principles of Leave No Trace's outdoor ethics can be found here, but basically, use common sense and be respectful both of nature and the other people that are going to enjoy the space. Take your trash with you, stay on marked trails, and generally just be a good person. This keeps nature nice for everyone 🙂
4. Know Your Limits
You're excited! You're ready to take the world! This is a time when beginners can underestimate the difficulty of a hike – especially in areas that are rocky/have more elevation gain. Take is slow – find a short, easy hike and get used to your area – and your new hiking boots! Those longer hikes are great goals to have once you have established your fitness level.
5. Enjoy Your Hike!
Hiking doesn't have to be about miles, or the vertical gain, or gear. It's something different for everyone – so find what you love! Maybe you love long wanders through the woods – or perhaps a race to the top of a peak is more your jam. Find those routes that make you happy – and enjoy where that takes you!
Happy hiking!